Outdoor Autonomous Tugger Train is put to the test at Evonik
Ever thought about an Autonomous Mobile Robot that can not only drive inside production buildings but outdoors as well, connecting entire production sites? How about an AMR that defies all weathers and navigates its way through fog, rain, and snow?
4am Robotics proves that this isn't just a pipe dream with its autonomous outdoor tugger train (ATo-H for short). But how do you win a customer over with it? 4am Robotics conducted a one-week test at Evonik's Goldschmidtstraße site in Essen to find out.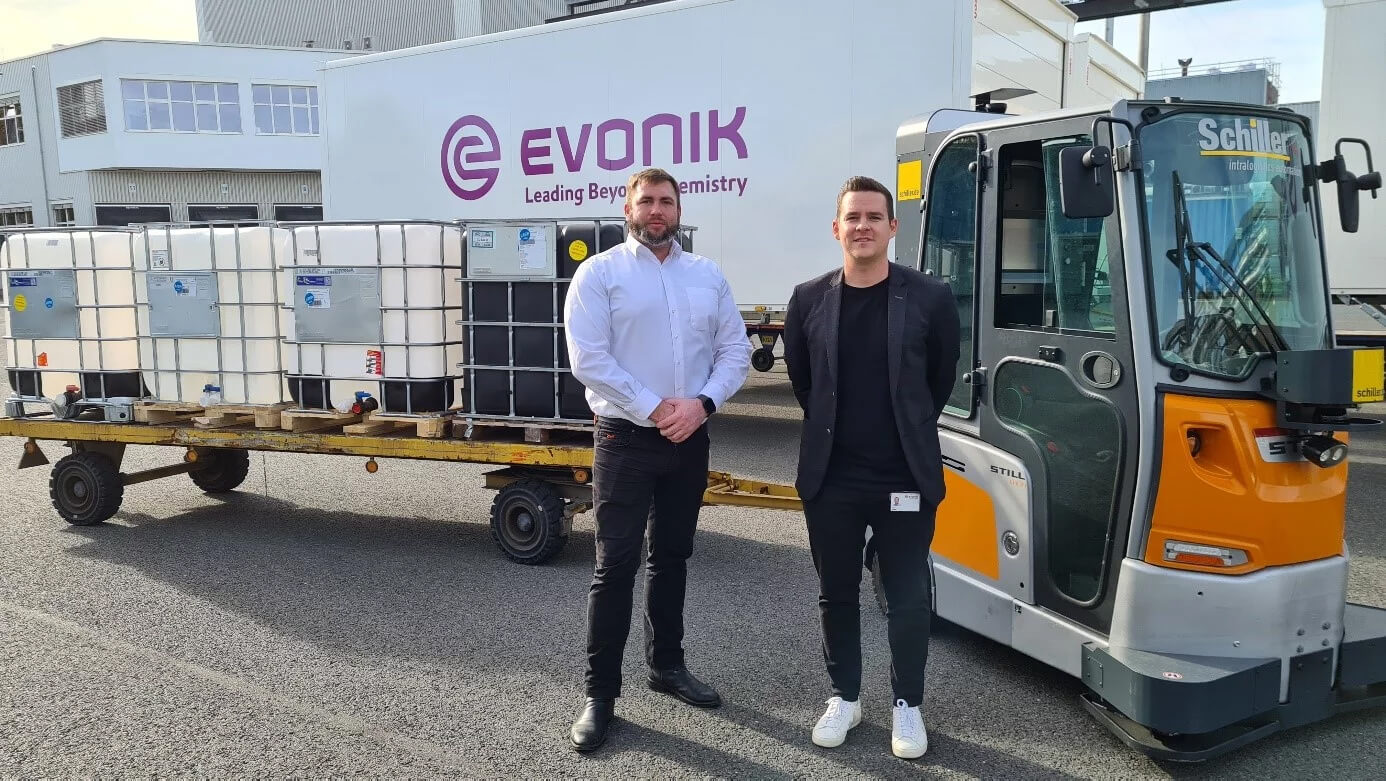 How does a test like this work?
It started on Monday morning when we arrived and did a final walk-through in the afternoon accompanied by our Evonik contact Marvin Musel. This was then followed by mapping the whole 246,000 m2 site.
We installed the routes the very next morning, although the very large terrain map proved to be a stumbling block that we hadn't previously come across with other customers. Despite this, the ATo-H was already driving over the factory premises automatically as early as Tuesday. The vehicle then spent the rest of the week driving itself over the approx. 2.5 km route as part of an endurance test. This was quite a challenge because, in addition to the length of the route, the ATo-H also had to deal with a number of inclines. Let's not forget that we did this test during regular operation. The outdoor tugger train had to show how well it was able to detect obstacles in mixed traffic and brake at the appropriate time.

It took less than a day to automate the vehicle and implement the software. The test was a success, which is known as the "proof of concept", Evonik was impressed with what they saw: As far as we're concerned, setting up this test is the first step toward fully autonomous logistics processes at the plant, and gave us visible insights into what possible, as well as the challenges that we will need to be mindful of. We wanted to focus on how the device worked, how it interacted with our manual processes and our employees. All in all, it was a very successful test," says Marvin Musel, who is in charge of the project at Evonik.
It's safe to say that it threw a spanner in the works for the 4am team. The test was initially scheduled for later in the year, when the weather was expected to be a lot worse. However, there wasn't a single drop of rain all week. As result, we weren't able to use the rain clearing system for the safety scanners, so that will have to be tested out another time.

The 4am Robotics team got something out of this proof-of-concept (PoC) as well of course:
"Testing a system like this is always a great opportunity for us to test our autonomous tugger train development in direct use. Our trip to Evonik was also the first time that our tugger train has been able to travel along such a long outdoor route. These tests are extremely valuable to us", said Benjamin Gerhardt, 4am project manager in charge of the PoC.
"From a customer's standpoint, being able to showcase new technologies in this way is crucially important as they are trying to make processes and workflows "automation-ready" internally as well. We really want to support them on the journey and demonstrate what our technologies can do for them as much as we can, and to get things implemented as soon as possible"
Jakob Altmannsberger, Sales Manager at 4am Robotics.